Back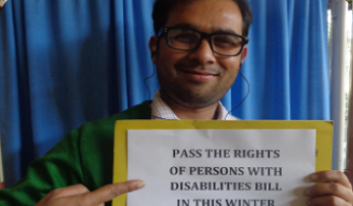 Success Story Advocacy for Person with Disability (PwDs)
December 2016 was a significant month for those of us involved in the disability sector in India. Thanks to the dedicated efforts of NGOs, the Rights of Persons with Disability Bill was passed by the Indian Parliament, marking a significant milestone in the empowerment of people with disabilities in the country. The Government of India passed the historic Rights of Persons with Disability Bill 2014, aligning with the United Nations Convention on the Rights of Persons with Disabilities. CORD, a part of the National Disability Network (NDN), played a crucial role in advocating for this bill by engaging with various stakeholders, including Members of Parliament. Unfortunately, during that month, many parliamentary sessions were adjourned in the Lok Sabha and Rajya Sabha.
All the partners within the National Disability Network reached out to their local Members of Parliament and wrote to them, urging support for the Rights of Persons with Disability Bill in parliament. We also contacted our local Member of Parliament regarding this matter. This bill is now on the brink of becoming an act, and it promises to be a game-changer for the disability movement in India, addressing the needs of many previously unheard and unseen individuals. While the 1995 Persons with Disability Act covered only seven types of disabilities, the new bill will encompass a broader range of 21 types of disabilities.
The new bill emphasizes a rights-based approach to empower people with disabilities in India. According to the 2011 Indian census, 2.21% of the population had some form of disability. With the new definition of disability, this number is expected to increase. People with disabilities will have a significant role to play in India's development and policy changes. We are optimistic that the new Disability Bill will bring about substantial changes in the disability sector in India in multiple ways.