Back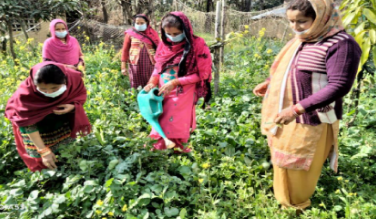 Mahila Mandal and Self Help Group helped Sarita Devi to emerge as a role model for the society by filling her dreary life with colors of happiness
This story is of Smt. Sarita Devi, wife of Shri Sunil Kumar, who hails from village Traimbla, Gram Panchayat Mehrna, District Kangra, Himachal Pradesh, and is a member of Chinmay Vikas Mahila Mandal formed by CORD in 2014. Smt. Sarita Devi belongs to a poor family and is suffering from cancer. Her husband used to work as a laborer for a company in Punjab, from which he did not earn much. Due to Sarita Devi's illness, most of her income would go towards her medical expenses, causing a lot of trouble for the family. Due to her illness, she was often depressed and upset.
Often frustrated and disillusioned with life, Sarita Devi was inspired by CORD to join Mahila Mandal and SHG in 2014. The Mahila Mandal emerged as an important platform for Sarita Devi to help her overcome her sadness and unleash her inner potential. Participating in the monthly meetings of Mahila Mandal boosted her confidence, and she started taking more responsibility in Mahila Mandal. Sarita Devi played an important role in her panchayat as a community resource person for the empowerment of women farmers under the program implemented by CORD. Sarita Devi benefited around 83 families in her panchayat through the promotion of different activities like crop intensification, horticulture, backyard poultry and dairy, vegetable farming, mushroom farming, etc. Under the guidance of CORD's team members, Sarita Devi has facilitated a Swadyay group for her spiritual development in her village, to which she has also added five other members from her village. She holds her group meetings every month and reads and discusses spiritual book lessons in them.
There came a sad time in Sarita Devi's life when her husband lost his job due to the nationwide lockdown due to the COVID pandemic in 2021. Some of the regular income that was earned from this job was also gone. She had become so confident because of the Mahila Mandal that now she had learned to face each situation. She also became a member of the Chinmaya Baishno Self-Help Group when she joined Mahila Mandal. From which she used to take small loans for the treatment of her illness. So now she had full faith in her SHG, knowing that it would definitely help her. She purchased one milking cow and started goat rearing (4 goats) by taking a loan of Rs 35,000 from the self-help group in December 2020, from which she is earning Rs 4000–4500 every month from the sale of cow milk. She took a loan of Rs 50,000 from the bank for the second time through her self-help group in October 2021 and invested in opening a general store shop for her husband in her village. Now her husband is living in his village and earning 5000 to 6,000 rupees per month by running a shop. Now the whole family is happily living together in the village, and now they are also doing farming in a better way.
Thus, Mahila Mandal and the Self Help Group helped to fill the dreary life of Smt. Sarita Devi with colors of happiness, due to which she emerged as an important pillar to strengthen the economy of her family with confidence. The significant changes brought about in the life of Sarita Devi through Mahila Mandal have shown a way of setting an inspirational example for many women too.