Back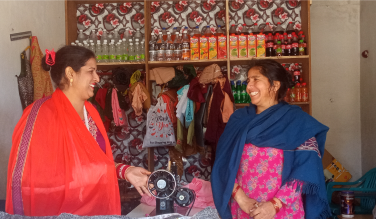 Rekha Devi
Smt Rekha Devi belongs to marginalized family got married at an early age of 20 years. She has a 16 year old son who is studying in 10th grade. Her husband is a part time team member with CORD for the past 14 years. Her family has small unfertile land holding which is not enough to meet her family needs. Fortunately, she had received stitching training prior to her marriage. She wanted to start her stitching work to help her family. But she was hesitant to start stitching because of her financial constraints. She joined Chinmaya Radha Swami Mahila Mandal in 2008 and became member of Chinmaya Chamunda self-help group later with the facilitation and mobilization by CORD team. She got inspiration from her mother-in-law who is the president of Chinmaya Radha Swami Mahila Mandal for long time. She took small loan from her self-help group and started a small stitching shop 20 kilometer away from her home. During the COVID-19 pandemic, she struggled a lot to sustain her business.
CORD Intervention and results:
Smt Rekha Devi wanted an immediate support to repair her rented shop, buy necessary raw material and add some confectionary items in her shop. She was unable to arrange required investment from her sources. In March 2023, she was provided support of Rs 40000 by CORD for her business needs. Through this timely help by CORD, she repaired her shop and bought confectionary items. She is also providing stitching training to girls who want to adopt stitching as their livelihood option. After CORD's support, Smt. Rekha Devi has become self-reliant and is helping her family independently. She is earning Rs 10000 to 12000 per month from her small business and fulfilling family needs better than earlier. She recognizes CORD's support and making herself reliant. She has become role model to many more.