Back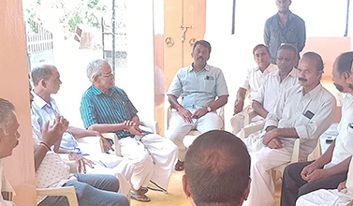 Success Story Gokulam Men and Farmer Club
22 Nanjundapuram, a beautiful small rural village in Periyanayakkanpalayam Block, where a group of farmers faced the common struggles of limited income, high interest lending, and market access. Their hopes for a better future rested on their agricultural efforts, but the inorganic cultivation methods and crops they relied on weren't enough. It was then that 15 farmers joined together and connected with CORD in 2009 to break the barriers and bring new hope to their farming community.
CORD recognized the untapped potential of these farmers and decided to take action. We started the "Gokulam Farmers Club" and organized meetings and training sessions. With guidance from agricultural experts and CORD's motivation, the farmer's club learned about modern farming techniques, sustainable practices, and the advantages of interloaning.
As the months went by, the Gokulam Farmers Club started interloans and completely eradicated the practice of high-interest lending. They were financially educated by CORD about bank loans provided at a very nominal interest rate and they were linked to the nearest bank. They started getting their loans from the bank, and now they have received a cumulative loan amount of Rs. 60,00,000 (Sixty Lakh Rupees) for their farmer's club at an interest rate of 4%.
They implemented various organic farming methods that they learned from CORD, like Jeevamritha and Panchgavya, and introduced new crops suitable for their region, such as high-yield coconut varieties and vegetables. But the real turning point came when they decided to venture into value addition. With the support of CORD and government intervention including NABARD, the club built a small solar dryer unit, where they began creating an array of value-added products. Their first venture was drying coconut and turning it into copra. Soon, they expanded to making cold-pressed coconut oil, arecanut plates, and dried chillies, capitalizing on the crops they produced in their region.
Word about the Gokulam Farmers Club's delicious and high-quality products began to spread. Their commitment to sustainable farming practices, coupled with their dedication to producing quality goods, caught the attention of health-conscious consumers.
Another problem raised in their village during the drought season was a lack of green fodder for their cattle. Gokulam Farmer Club solved the problem of a lack of cattle fodder and nutrition by networking with the horticulture department and buying an azolla-producing unit for their members at a subsidized rate. Gokulam Farmers Club members and women farmers from their village purchased shares worth Rs. 30,000 and contributed to the growth of Siruvani Uzhavar Producer Company Limited. Mr. Suresh Kumar from the Gokulam Farmer Club joined as Director of the Siruvani Uzhavar Producer Company Limited and is guiding the company in a prosperous way.
With the increase in income, the farmers' lives improved significantly. They could now afford better education for their children, access to healthcare, and even invest in modern farming equipment like weeders with the help of government schemes. The Gokulam Farmer Club had not only improved the lives of its members but also had a ripple effect on the entire community.
Even during the COVID pandemic period, the Gokulam farmer club provided free food for the needy for 30 days. Today, the Gokulam Farmer Club stands as a shining example of how CORD, a group of dedicated farmers, and a commitment to sustainable agriculture and value addition can transform lives and communities.