Back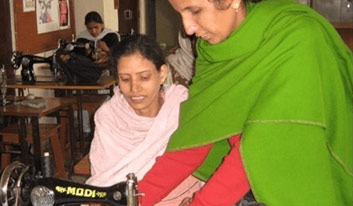 Binta Devi
Binta Devi became a young widow when her husband, a truck driver, died of HIV/AIDS. Her late husband's family blamed Binta for his death and she, along with her two children, were ostracized by her family. She was shut in a very small dark room where water leaked from the roof, and was physically and verbally abused by her in-laws. Her children were forced to drop out of school. They became malnourished and emaciated. That's when the local Mahila Mandal, along with the self-help group stepped in. Binta and her children were tested for HIV, and were fortunately found to be HIV-negative. With the help of Mahila Mandal, Binta got access to food from the government's public distribution system.
The family was counseled by CORD's informal legal cell team about women's rights and about the mode of transmission of HIV/AIDS. Binta's rightful place in the home was finally ensured through pressure created by the Mahila Mandal.
The Mahila Mandal further interacted with the school, where the teachers had forced Binta's children out of the school out of fear of HIV/AIDS. After much pressure from the Mahila Mandal, the children were readmitted in the school. The women's group also ensured that Binta received widow pension from the government, and enrolled her in the Self-Help Group (SHG) to help her access micro-credit. She was motivated to learn sewing, and joined CORD's sewing training program. Within two-years she became self-reliant.Binta now trains other girls and is an important micro-entrepreneur.
Binta's story is a reminder that we all deserve to live a dignified and healthy life.