Back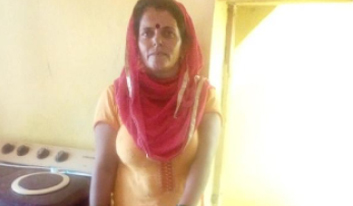 CORD Sanitation Program Story
Name: Smt. Renuma W/O Shri Susheel Kumar
Age: 41 years
Education: 10th Pass
Caste: Scheduled Tribe (ST)
Category: BPL (Below Poverty Line)
Address: Village Sheela Bater, Ward no. 5, Gram Panchayat Passu Pantehar, Post office Passu Pantehar, Block Dharamshala, District- Kangra, Himachal Pradesh
Background:
Smt. Renuma belongs to a poor family which includes her husband, two children i.e. Aditya age 16 years and Shruthi age 14 years. Her house is very small and there is no open place to construct a toilet. Her husband drives a private tempo locally to feed his family. Her son has multiple disabilities like not able to write, difficulties in walking, alsoincludes partial visibility problem, his disability percentage is 75%. Her family's two female members and one disabled child were more vulnerable to defecation issues. They had to go outside for the same in an open place which would be unhealthy and unhygienic not only for her family members but for others also in the community as well. Due to constraints of land and financial problem they are not able to make their toilets. They also believed earlier that toilet should be made outside from home.
CORD Intervention:
Under the guidance and facilitation of CORD, Smt. Renuma associated with CORD's nurtured CBO's i.e. Chinmaya Gouri Mahila Mandal and Chinmaya Parvati SHG in 2015. Under the guidance and support of the CORD she applied for assistance to make her toilet before Gram Panchayat. The concerned Mahila Mandal members also supported her through Up Gram Sabha and Gram Sabha. The panchayat approved her application and provided support of Rs. 12000/- under Swachh Bharat mission. She also added some money from her saving and took loan from SHG Rs.3000/- and constructed an attached toilet inside her bedroom. She also made her toilet safety tank inside the bedroom too. She has also constructed the garbage pit for disposal of biodegradable wastes and made a micro garbage segregation unit at her home. Now this attached toilet room is very convenient for her disabled child and female members of this family. CORD's Community Based Inclusion and Development (CBID) program also supported social inclusion and access to entitlement, special education, exercises andwellbeing, getting benefits of Government schemes including monthly pension of Rs.1500/- per month.
Under the guidance and support of CORD team members, Smt. Renuma was identified as the Village Volunteer Resource Person (VVRP) for Sanitation issues by her Mahila Mandal. She diligently works towards creating awareness in her village about sanitation and hygiene issues.
Conclusion: In rural areas, the people generally think that toilet is a symbol of filth and build toilets away from their residence. Because of this mentality most of the people who do not have enough land, do not build their toilets. CORD made the community aware that the toilet is a symbol of cleanliness and demonstrated that toilets can be constructed inside their home. Now the villagers of this area also started doing the same practice.
Smt Renuma is one example of the same. The unique fact here is that despite less money and lack of land she realized the vital importance of the construction of a toilet built in her home was not only clean but very convenient for women folks, especially in all seasons. Such examples followed from home to home in this area.