Back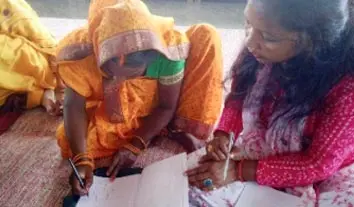 Empowering Rural Women Through Literacy: A CORD Success Story
In the picturesque landscape of Sidhbari, District Kangra, Himachal Pradesh, a remarkable transformation unfolded from the 16th to the 23rd of August 2023. This success story is a testament to the power of education and community support.
The Background:
They have limited access to education and were largely cut off from the outside world. But CORD saw an opportunity to change their lives. Hence Organized a training program on comprehensive integrated rural development at CORD Training Centre Sidhbari, District Kangra Himachal Pradesh from 16th to the 23rd of August 2023.
The Training Program:
CORD organized a Training Program at their Sidhbari Training Centre, where 27 women from Mahila Mandals from three Panchyats in Udham Singh Nagar participated eagerly. Among them, 13 women were illiterate, representing a significant challenge.
The Innovative Approach:
To address illiteracy, CORD introduced an innovative approach known as the "Roti and Soti" model. Dr. Kshama Metre, CORD's National Director, led this initiative. In this model, "Roti" symbolized a circle, and "Soti" symbolized a small stick, both commonly used objects for rural women. These symbols made it easier for the women to recognize letters and digits.
In a heart-warming display of community support, each illiterate participant was paired with an educated participant who served as a peer teacher. Both teachers and students worked diligently, and the results were astounding. All the illiterate participants quickly grasped the basics of functional literacy. They began writing important phone numbers and dialling the numbers and making phone calls.
A Journey Beyond Boundaries:
This experience was not just about literacy; it was also a journey of exposure and empowerment. For many of these women, it was their first time in Himachal Pradesh, a place vastly different from their own.
Recognition and Celebration:
As the training program concluded, the women's achievements were celebrated with an assessment conducted by the CORD team. Dr. Kshama Metre, CORD's National Director, personally awarded prizes to these remarkable women with a simple small mobile phone each their joy of recognition knew no bonds. Their dedication, determination, and new found literacy skills were acknowledged and celebrated.
Conclusion:
The story of these 27 women from remote Gram Panchayats serves as a shining example of how education and community support can transform lives and sign their name. Through the Roti and Soti model, CORD not only taught them to write digits but also opened doors to a world of opportunities previously beyond their reach. These women now stand as a beacon of empowerment and inspiration for their communities. CORD's commitment to rural development continues to make a profound impact, one Roti and Sothi at a time.