Back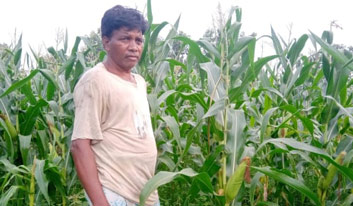 Jhigara Oram
Every human being needs food, shelter, cloth, education, health, sanitation drinking water etc to sustain. To avail these, every individual takes up certain initiatives to address his livelihood issues. This case study is about Jhigara Oram and how he secured his livelihood through vegetable cultivation.
Jhiraga Oram belongs to Timjore village under Lathikata Block of Sundergarh district. He has two sons with wife Sukhmani. He was not in a condition to earn livelihood for his family as he contracted polio. Apart from that, due to the premature death of his elder brother,Birua Oram, he had to look after the five members of his elder brother. Jhigara was always in grief on how to manage his own and his elder brother's family. He has no alternate source of income to overcome the family's financial constraints.
Due to this difficult situation, Jhigara joined as an agent in a private institution. But he was unable to manage his family with his low income. There was an irregularity of monthly payment to him. He quit that institution after three months. Disappointed, he prayed to god how to overcome his problems. At that time his wife came across a Field worker of CORD named Lathikata and she was inspired to join in Ch. Ganga Self Help Group of that village. She also joined SHG. After a few months, she took a loan of fifty thousand rupees from her own group. She brought a new tractor with help from the bank. He earned good income from the tractor and she returned the loan amount of SHG on installment basis. But she could not repay the bank loan. So the bank seized that tractor from her. Community development worker encouraged them not to lose their patience. Jhigara had few acres of agricultural land and there was lift irrigation facilities in the village so they made up of their mind to start vegetable cultivation. For first time they started vegetable cultivation in o.75 acres of land. He grew Brinjal, Ladies Finger, Pumpkin and Tomato in his garden. He worked hard and his family members also helped a lot in this venture. CORD workers assisted in providing technical knowledge to raise nursery, plant, water, weed, fertilize and harvest the crops. He is earning Rs. 15000- 18000/- per month from this activity. He got Rs. 35000/- as profit in last three months. Jhiraga Oram is now able to manage his large family smoothly. His two sons and younger daughter of his brother are studying in a local college. He also helped in his elder brother's daughter's marriage. He has taken this venture in a commercial way. He has planned to extend his vegetable cultivation up to 2 acres of land in coming winter season by adopting totally organic way of vegetable cultivation.
During the field visit of CORD worker, Jhigara quotes that with the financial assistance of Ch.Ganga, SHG and technical support of CORD worker, he has been able to overcome the family financial constraints. He also revealed that every farmer should bring good income for family utilizing the existing resource like land, water, manpower, technical knowledge and time by discharging of hard work and enthusiasm.