Back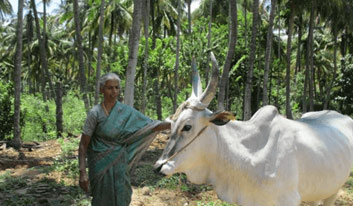 Mrs Umamaheshwari
58 year old Umamaheshwari Kulandaivel started as a conventional farmer 25 years ago. All these years she found that the profits were very low and the soil fertility and the productivity were coming down.
She joined the Thennamanallur Vennila MM in 2008 and is now the treasurer. She is also an active member in the Women Farmers Group facilitated by CORD, a member of the Farmer's Club and a shareholder in the Siruvani Farmer Producer Company. She attends all meetings and uses the knowledge acquired as much as possible. She is very participatory, shares her opinions and clears her doubts promptly.
During the meetings facilitated by CORD, she met several successful organic farmers and decided to go the organic way. She shifted to organic farming for the past three years and found that she is getting a better price for her vegetables and also spending less on her inputs. She sells her vegetables door to door using her bicycle. She raises around 200 hens and has a cow and two calves, one of which is of indigenous breed. She makes and uses Panchagavya, Dashaparni, Jeevamrutam and other biopesticides like ginger garlic tobacco solution.