Back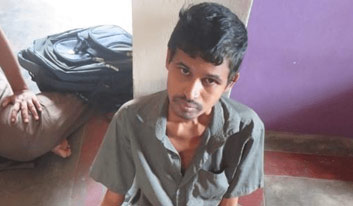 Raghunathan
Raghunathan of Nelvoy Panchayat suffers from severe muscular dystrophy and extremely constrained movement of limbs. His elder sister Kaveri also suffered the same and could not move her limbs. Restrained to their house they became completely dependent on their mother and elder brother for their basic needs.
CORD Thamaraipakkam started the Community based inclusion and rehabilitation (CBIR) program in Nelvoy in the year 2011. When Sri Silambarasan (CORD staff) first visited Raghunatan's house, he was shocked to see the two siblings living in such poor and neglected health conditions. There was not even a toilet in the house. At first Raghunatan's brother, Raja did not like Silambarasan visiting their house and looked at him as an intruder as he felt that the condition of his siblings could never be improved by anyone anymore. But after some counseling, Silambarasan gained entry into their house and welcome into their family. He enabled the siblings to get disability ID cards and a monthly pension of Rs 1000/- each. This little money helped ease the burden on Raja's shoulder to run the family and take care of their unending medical needs. Gradually CORD enabled Raghunatan and his sister to get a scooty and a wheel chair to improve their mobility within and outside the house. But they are too crippled to use these themselves. So CORD facilitated a CBR VVRP to visit the house at least twice a month to walk them out of the house in wheel chair. Further CORD facilitated a physiotherapist to visit once a month to teach them simple breathing exercises and mild movements. These greatly helped to improve the weak health conditions and helped alleviate body pain.
Observing Raghunatan's ability to draw, CORD staff encouraged him by providing good quality paint brushes, charts and other paint materials. CORD also took an artist to his house who tutored him better and different styles of painting. When CORD presented Raghunatan's painting to Pujya Guruji as a gift, Guruji in return gifted Rs. 5000/- to the artist. This was his first earning from painting which he used to construct a toilet. So far he has earned more than Rs. 1.5 lakhs from his paintings; mainly sold with the help of CORD USA. He sometimes even hand paints ethnic pictures on camp bags for CORD to sell.
Besides, CORD helps Raja, Raghunatan's brother who is a farmer with various farm related activities like azolla cattle fodder cultivation, preparation of organic manure such as vermin compost and panchagavyam. CORD also encourages Raghunatan's elderly mother to maintain a kitchen garden for their family. Raghunatan's nephews (Shivaranjini and Abhirami) are part of adolescent girl group through which they are empowered with knowledge and skills. They have also learnt jewellery and incense stick making from CORD.
Thus CORD has enabled Raghunatan's family to improve their laborious living conditions. Raghunatan is now drastically changed although not physically but in spirits. He attends the annual differently abled empowerment day celebrated at CORD and is a good motivational speaker. From a victim of disability to a specially abled role model, Raghunatan's transformation is an inspiration to the disabled community.