Back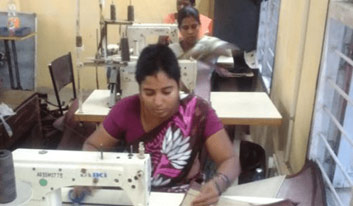 Revathy
Revathy hails from a very poor family from Ramanatapuram village of Pakkam Panchayat. Her father was an alcoholic who forced her to discontinue her education after 9th grade and got her married at a young age. Her husband who was an alcoholic too, discouraged her from going out to work. Due to poverty she was at times unable to pay the house rent or pay the school fees. She put her children in a free school run by a NGO. She had gone to a beautician course and was also innately talented in art and crafts. One day her husband in a drunken state met with an accident and was unable to work for almost 6 years since. Soon, Revathy joined Chinmaya Karpaga Vinayagar SHG and Mahila Mandal which marked a turn of events in her life Seeing the hopeless state of her husband, she learnt tailoring and did some odd stitching jobs. Revathy shared her sad state of affairs with Smt Lalita (CORD staff). It took Lalita several visits to the house to convince her husband and counsel him. Initially he did not let her inside the house. Slowly with Lalita's persistent efforts, he took to her good counsel and allowed his wife to go out for a job.
Revathy joined the 2 week jute bag making course facilitated by CORD (in association with INDSETTI). After the course she tried to gather 10 of the 24 women who attended the course to start her own enterprise. But as it needed initial investment many were apprehensive and backed out. After a lapse of 4 months when CORD approached her with an order of 600 jute bags she once again gathered 3 more women from the training and took up the order. It was a huge step for a beginner but she did it. Since then she has taken up many such orders mostly from various Chinmaya Mission centres. She is the leader of the group of 6 whom she mentors and monitors. She has also learnt many other skills like jewellery making, screen printing, garment making, hand painting, paper bag making and hand embroidery facilitated by CORD. Being talented she has picked these up quickly and with these additional skills she is able to earn a regular income of about Rs. 5000/- per month and also help 5 other women like herself to earn their livelihood. Besides, she tutors a 2 month tailoring course to other village women. So far she has trained 2 such batches. With her hard earned money and the help of SHG loans she has built her own house.
Thus through the Mahila mandal and SHG programs she has attended many leadership, VVRP (Village Volunteer Resource Person), vocation skill development and capacity building trainings of CORD all of which have slowly enabled her transformation to an empowered entrepreneur. Her husband who is finally now able to go to work after a lapse of 6 years is also a changed man, a teetotaler and a supporting husband. Revathy is now our IGS & entrepreneurship VVRP who mentors other women in the rural villages like herself. She is very grateful to Pujya Gurudev and thankful to CORD.