Back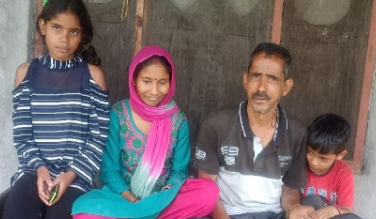 Social Justice and Legal Cell
In Gram Panchayat Jadrangal, Block Dharamshala District Kangra Himachal Pradesh, there lives a remarkable woman named Reena, who live like a "Queen of the Hut" through her incredible journey of triumph over adversity. Reena's life has been a series of challenges and hardships, but her unwavering spirit and determination have made her one of the happiest people in the world.
Reena was born with a disability in her left hand and experienced profound loss at an early age when her mother passed away. Her life took a challenging turn when she was married to a man with hearing and speech impairments and mental illness. The marriage brought little happiness as she faced ill-treatment from her in-laws. The situation worsened when her husband disappeared one day without a trace, leaving Reena pregnant and alone.
Faced with difficult circumstances, Reena sought refuge at her father's house, where she gave birth to a daughter. However, tragedy struck again when her father passed away, and her own brother betrayed her by misusing her disability money and casting her out of her home.
With nowhere else to turn, Reena was forced to remarry. Her second husband, an alcoholic orphan, added new challenges to her life. Despite the odds stacked against her, Reena found the strength to care for her two children from this marriage as well.
Reena's life was marked by major problems, including her husband's alcoholism, domestic violence, and social isolation. Moreover, her name not being registered in her second in-laws' Gram Panchayat resulted in an identity crisis, depriving her and her daughter of essential documents such as Aadhaar cards, ration cards, and job cards. Furthermore, her disability pension was affected, adding to her financial woes.
In the face of such adversities, Reena's life took a positive turn when she reached out to CORD (Chinmaya Organization for Rural Development) on September 10th, 2011. CORD, renowned for empowering women in rural areas, took up Reena's case under their Social Justice program.
With the support of CORD, Reena and her daughter received identity certifications, enabling them to avail essential government benefits. CORD's intervention didn't stop there. They counseled her second husband to give up alcohol and put an end to domestic violence. Additionally, CORD helped build a toilet and soakage pit at her home, improving her living conditions and facilitating better sanitation practices.
Reena's association with CORD brought her into contact with the local Mahila Mandal, where she found the much-needed social support and inclusion. CORD also linked her to a Self-Help Group (SHG) that empowered her economically.
Guided by CORD, Reena ventured into various resilient livelihood activities, including backyard goat rearing, backyard poultry, backyard rabbit farming, and dairy farming. Her hard work and determination paid off, and she was able to contribute around Rs. 2500 to 3000 per month to her family's income.
Over time, Reena transformed into a socially confident and knowledgeable individual, empowering herself to overcome the challenges that once seemed insurmountable. With her persistence and dedication, she even succeeded in convincing her second husband to quit alcohol.
Reena's life journey serves as an inspiration to all who face hardships and struggle to find happiness. From living in a one-room hut to having a pucca (semi-constructed) house with a cow and four goats, Reena's transformation showcases the power of resilience and the significance of support from organizations like CORD.
Today, Reena stands tall as the "Queen of the Hut." Her life is a testament to the strength of the human spirit and a reminder that happiness can be found even in the most challenging circumstances. Her story encourages us all to never lose hope, no matter how dire the situation, and to strive for a better life against all odds. If Reena can find happiness amidst adversity, so can anyone else.