Back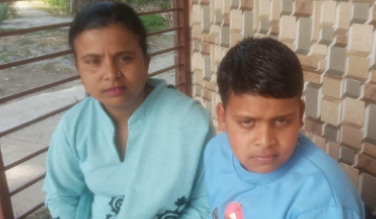 Kanchan Devi
Kanchan Devi's life was marked by hardship and struggle, but her unwavering determination and the support she received from an organization called CORD (Chinmaya Organization for Rural Development) helped her rise above her circumstances and seek justice for herself and her child. She belongs to Gram Panchayat Muhalkar, Block Nagrota Bagwan, District Kangra, Himachal Pradesh.
Childhood Struggles:
Born into a poverty-stricken family, Kanchan faced health issues from an early age that prevented her from completing her education. Despite the challenges, her family and community stood by her, providing support and love.
Married Life Nightmare:
At the age of 27, Kanchan married Rakesh Kumar. However, soon after the wedding, her life took a dark turn. Her husband, an alcoholic and abusive man, subjected her to physical and emotional torment. He falsely accused her of having illicit affairs, leading to a life of misery for Kanchan. The situation escalated to such an extent that Kanchan had to flee her in-laws' home and seek refuge with her parents.
Encounter with CORD:
During a CORD team member's regular visits to her village, she came to know about CORD's Social Justice and Legal Aid Program. With CORD's support, Kanchan found the strength to fight for justice and empowerment. She was encouraged to pursue legal action against her abusive husband under the "Protection of Women from Domestic Violence Act, 2005."
Legal Battle and Triumph:
Kanchan, with the guidance of CORD's Social Justice and Informal Legal Cell, filed a case against her husband in the Judicial Magistrate Court. After a prolonged legal struggle from 2008 to 2011, the court ruled in her favor. The court issued protection and maintenance orders, ensuring her safety and financial support. With the support of CORD's legal efforts, Kanchan also pursued a divorce from her abusive husband, ultimately freeing herself from the torment and turmoil. Determined to provide a dignified life for herself and her child, she embraced her newfound independence and took charge of her future. Now, living as a single parent, Kanchan is determined to create a nurturing and secure environment for her son, Rahul Kumar, and continue on her path towards empowerment and happiness.
Linkage with Government Schemes:
Despite facing resistance from local authorities, Kanchan persisted and ultimately succeeded in getting her name registered in the panchayat register and obtaining her own ration card. These crucial documents enabled her to access various government schemes and benefits, providing her with much-needed financial empowerment.
CORD's support did not stop there; they assisted Kanchan in enrolling for the government's monthly pension as a deserted woman and the Mother Teresa Scheme, which offered financial aid to support her in caring for her child, Rahul Kumar.
In addition to her other endeavors, Kanchan also works as a housemaid in nearby households, ensuring a steady income to support herself and her child. Her dedication and hard work in various spheres of life exemplify her determination to live a dignified and independent life.
A Beacon of Hope:
Kanchan's story of resilience and triumph over adversity inspired others in her community. She became an active member of various community-based organizations, including Mahila Mandal and a self-help group. She also worked as a Village Volunteer Resource Person (VVRP) for CORD's Yuvati Samuh Program. Through these groups, she worked to create awareness among women and girls about their rights and encouraged financial independence through interloaning.
Future Aspirations:
Kanchan aspires to provide the best education for her son and dreams of owning her own home. She has become a fearless and strong woman who knows her rights and is determined to create a bright future for herself and her child.
Kanchan Devi's journey from struggle to success is a testament to the power of resilience and support. With Cord's assistance and her unwavering spirit, she overcame adversity, sought justice, and embraced empowerment. Her story stands as an inspiration to others facing similar challenges, and she continues to be a beacon of hope for her community.