Back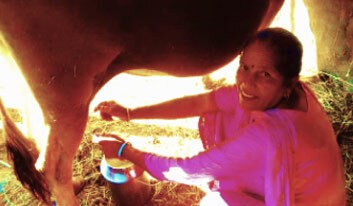 Success Story Smt Amari Devi
Smt. Amari Devi is a 59-year-old woman farmer who lives in Barana panchayat of Nagrota Bagwan block in Kangra district of Himachal Pradesh. She could not continue her studies after the 5th grade of school due to not having a school in the village. She was married at the age of 16. Her husband, Shri Ramesh Kumar, is a marginal farmer who has less than half an acre of land.
After the birth of her three kids (a boy and two girls), family responsibilities suddenly increased. In 2000, Smt. Amri Devi joined the Chinmaya Sadashiv self-help group. It brought a ray of hope for her family. On August 15, 2003, her self-help group linked with the bank and got the first loan of Rs 10,000. Smt. Amri Devi took a loan of Rs 5,000 from her SHG and bought a cow. She wanted to make additional income to fulfill her family needs.
She started selling cheese in her own village. Initially, she faced many challenges in selling her product at the local level. These experiences helped her better understand marketing skills and business opportunities. Now she understood that selling cheese was more profitable than selling milk. In 2006, she again took a loan of Rs 15000 from her SHG and bought another cow. She was confident about her success and wanted to scale her work. After having another cow, she started making more cheese than earlier.
Smt. Amari Devi was searching for marketing outside the village where she could sell her cheese. She approached the nearest town market at Nagrota Bagwan to sell surplus cheese, which is 38 km from her native village. CORD team members helped her get better market opportunities. Now she was getting a better price for cheese. She shares that selling cheese was her only source of income for her family. She says that she has filled all her financial needs with this income. She provided education for her children with this income and married two daughters. In 2018, she took a loan of Rs 20,000 from her SHG to buy a third cow. Now she has three cows and three calves.
Smt. Amari Devi makes an average of 3 kg of cheese per day and sells it locally. She sells cheese at a rate of Rs 280 per kg. Thus, she earns Rs 15000 in net monthly income out of it. She happily shares that the self-help group was the main force behind her story and made her capable of achieving this goal. She expresses her gratitude to the CORD team for making her family self-reliant.