Back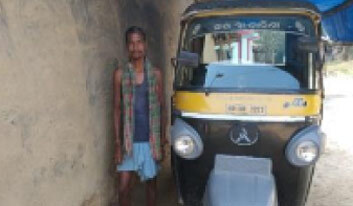 'Where there is a will, there is a way' success story
Ramnath Singh from Tangargad village of Mundajore GP is a marginal farmer. His family consists of thirteen members. He is an industrious one and devotedly working in paddy and vegetable cultivation for sustenance of his big family. He is an active member of Chinmaya. Baba farmers committee.
After several training program organised by CORD at his village on organic farming, he enthustically adopted the same and is growing different types of vegetable in his 2.5 acres of land. He has dug a bore-well for irrigation purposes and done the fencing around the vegetable land. He has completely given up of using chemical fertilizer and pesticides. Ramnath is well- known as organic farmer in this locality as he is practising meticulously whole set of organic methods and adopting cow-urine, vermin-compost and compost manure, bio fertilizer and bio pesticides for growing paddy and vegetable.
As per recent study conducted by CORD team, he is getting profit Rs. 80, 000/- to 1, 00,000/- every Year from different kind of vegetable. Ramnath has bought a new Auto rickshaw at the price of one Lakh rupees from his own saving .He carries the vegetable in his auto to different markets for selling. It is seen that his vegetable is high demand in the markets by dint of his organic way of cultivation.
With the strong determination of Ramnath Singh, a Lift Irrigation point has been set up at this village by Lift Irrigation Corporation, Odisha, where 50 acres of land is being cultivated by 20 poor farmers. His strong perseverance not only ensures the flourish livelihoods for his family but also acts as a torch bearer for other farmers in growing crops and vegetables in nearby villages. Being inspired by him, ten farmers of his village have replicated the complete method of organic farming.