Back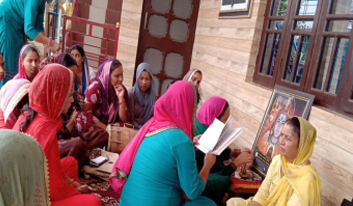 The Story of the Swadhyay Group
Swadhyay group is in Jogipur Panchayat Ward Number 5, whose VRP is Sudesh Kumari. Sudesh Kumari runs the Swadhyay group in her village, Jogipur ward number 5. There are 12 members in this group. Swadhyay group meetings are held on the 9th of every month at 11:00 a.m. All the members attend the meeting of the Swadhyay Mandal.
This group was run by CORD Sidhbari. We hold the Swadhyay group meeting in the temple as well as alternately in the homes of all the members. Whatever is learned in Swadhyay, all the members also tell other members of the family in their respective homes, such as setting up a post of worship. The family in whose house the meeting is held makes prasad, chants Om three times, chants Om Shri Chinmaya Sadgurve Namah 11 times, and recites four verses of Guru Stotram. After that, we read a lesson from the self-development guidebook and discussed it among ourselves. All the members give their views, learn from them, and adopt them in their lives. In the house where the meeting is held, other members also sit in that house. By doing Swadhyay in this way, the spiritual thinking of all the members is formed, and they get a chance to learn by visiting the houses of other members one by one. The feeling of service awakens in everyone, and positivity comes to mind. The mind remains calm.
Satsang happens at home, and faith in God increases. Devotion increases. The purpose of human life is revealed. The power of discrimination has increased within us to differentiate between right and wrong, and our focus on devotion to God has become stronger. We like to do satsang. All the hymns are recited. There is unity in the group. All members participate enthusiastically and discuss and learn in their group. Perform the aarti of Gurudev and recite Shanti.