Back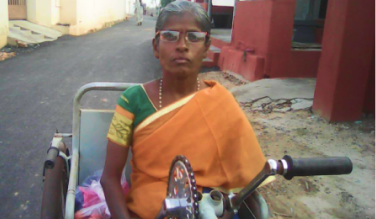 Valliammal (Tamilnadu)
Valliammal was a poor young girl full of dreams and ambitions. Her childhood was as happy and normal as that of other kids her age. Life had a different plan for her. In a feud between the neighbour and Valliammal's mother, the neighbour accidentally poured extremely hot water on Valliammal's leg, and her nerves got completely damaged, which caused locomotor disability, making it challenging for her to move freely. However, her spirit remained impervious, and she yearned for independence and sustainability.
Valliammal completed her basic education despite having a disability, but as she grew older, societal norms and the lack of opportunities for people with disabilities cast a shadow over her dreams. Her mobility slowly decreased as she had to move with the help of a small wooden plank with wheels.
In 2016, hope knocked on Valliammal's door in the form of CORD. Community Development Worker Deepa analysed the situation of Valliammal and provided her with opportunities for skill development and financial independence. She recognised Valliammal's potential and was eager to support her in attaining sustainability in life. Though Valliammal was receiving disability pension from the government, her basic problems were mobility, livelihood and Inclusion.
CORD was well aware of her situation and motivated her to join the tailoring class run by CORD with skilled trainers in Viraliyur. In the mean time, she joined in Gnanavinayakar Mahila Mandal and started interacting with her fellow villagers. The Mahila Mandal members were so eager to help Valliammal and motivated her to master the new skill. Slowly Valliammal honed her tailoring skills and became confident that she could earn her livelihood with that skill. CORD networked with the Rotary Club and facilitated the purchase of a customised sewing machine that could be operated with her hand. We also ensured that her workspace was accessible and suited to her specific needs. CORD then concentrated on the mobility of Valliammal and networked with Young Indians to present her a three wheel hand operated cycle to ensure her mobility. CORD transported her to Lotus Eye care and sponsored a pair of glasses to improve her vision.
Valliammal's journey wasn't without its challenges. She faced skepticism from some villagers who doubted her abilities due to her disability. However, her Mahila Mandal member's cooperation and the support of CORD helped her push through these hindrances.
As Valliammal started to earn Rs. 2000 per month through her Tailoring skill, CORD implemented the Multiple Resilient Livelihood Model with her and taught her paper cover-making skills so she could improve her earnings. Through her dedication and with the support of CORD, she transformed her life. She proved that physical limitations were not a barrier to success and that the power of determination and support could help one rise above any hindrance.
Now Valliammal is a fulfilled individual, where her Mahila Mandal is her family, friend, and everything else.