Back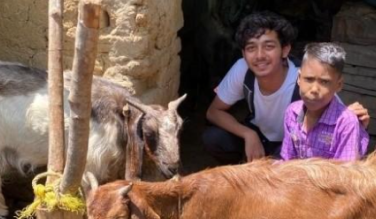 Sajan Chaudhary
Sajan Chaudhary hails from Siyund Panchayat in Kangra District of Himachal Pradesh. He is 19 years old and lives here with his parents and two sisters. He belongs from BPL family. Since childhood, he suffers from major Thalassemia. Three years ago, he was identified by CORD's team member. CORD assisted his family in getting his disability certificate of 60%, Unique Disability Identity Card and disability allowance of Rs. 1150/- per month.
Every fifteen days, Sajan needs blood transfusions. He exhibits signs of extreme weariness and a lack of focus due to Thalassemia. He is warm and incredibly eager. In the twelve grade he is studying humanities. CORD has assisted the family with Rupees 17,000 with which they started to rear goats. Sajan is keen about caring for his goats even if he isn't permitted to put himself through physical pressure. Every day, Sajan makes it a point to feed the goats and let them graze in the field. Even though his mother frequently tries to stop him, he insists on taking care of the goats on his own. His mother is the member of CORD's facilitated Mahila Mandal and Self Help Group.
The goats have been a blessing in disguise for the kid as the doctors have advised him to consume goat milk to get the necessary nutrition. Being a BPL family, it is very hard for them to consume fresh fruits and protein rich meals daily but the goat milk works as a supplement to this. Currently the family has six goats, of which two are market-ready. In the future, they intend to raise 8-9 goats and use that revenue as one of their primary means of living. The boy is a perfect illustration of a person who never allows their difficulties to get in the way of their work. His family is full of inspirations and despite facing so many hardships, they all work together to support the family.