Back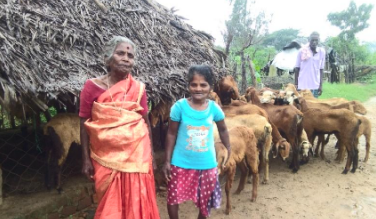 Amul
Smt. Amul aged 38 hails from Velliyur Panchayat. At the age of 3, she suffered from high fever which affected her limbs severely and she could not walk. Her poor uneducated parents took her to a local charlatan who could not treat her. She could not walk at all for few years as her lower limbs were too weak and feeble. Also she could not go to school because of her inability to walk. After her puberty she started to walk slowly. But since this episode her growth was stunted.
Because of this disability, she was an object of attention wherever she went. She faced a lot of embarrassment and rejections. She could not get married while her 3 other siblings married and settled with their own families leaving her as the sole responsibility of the elderly parents.
In 2016, Amul joined Chinmaya Sathyajothi Mahila Mandal and Chinmaya Malli self-help group. She was counselled and motivated by CORD community development worker to come out of her shell and empower herself to be on her own. She lived with her parents in a small house which did not even have a toilet. CORD helped her construct a toilet and guided her to get Unique disability ID and disability pension.
Amul's mother, Smt. Paapathi is 58 and father Sri Perumal is 65 years old. Apart from MNREGA employment for 100 days in a year and the gov't pension that she receives, they did not have any steady income. Through SHG she loaned some amount and engaged in goat –rearing. CORD also helped her to purchase a cow and trained her in back yard dairy. Now she has 15 goats, 2 cows and 1 calf. CORD continuously guides and supports her with small livelihood initiatives like kitchen gardening, cattle feed. She is able to make Rs. 6000/- despite her physical limitations. She has gained confidence to be independent and also she has ventured to motivate and guide other vulnerable people like herself. She has become the leader of her Chinmaya mini Umang group of 12 persons with disabilities in her village hamlet. She meets them monthly and conducts meetings, guides them to start livelihood activities and facilitates loans through SHG.