Back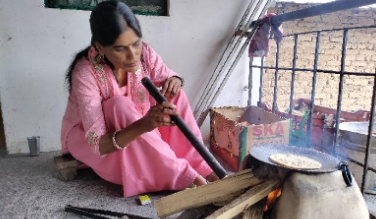 Asha Kumari
50 years old Asha Kumari is a strong, dedicated woman from Sokni Da Kot Panchayat, District Kangra, Himachal Pradesh. She suffers from locomotor disability with a percentage of 45%. She studied till 10th grade as it became extremely challenging to continue her education. She is associated with CORD from last 23 years. Earlier she was confined to home. Regular counselling and interaction with CORD team members helped her in building confidence and attaining knowledge.
Her family consists of her husband, daughters and son. Her husband, Vinod Kumar is a labourer. Her younger daughter suffers from intellectual disability and she also associated with CORD's programme.
CORD helped her to avail disability certificate, UDID (Unique disability identity card), and disability allowance. She is getting disability allowance of Rs. 1150/- Pm and additionally, CORD helped her in getting Rs. 3000/- Pm under HP Sahara Yojna. Regular education, counselling and training encouraged Asha for becoming president of CORD's facilitated Mahila Mandal and active member of Self Help Group. CORD helped her to promote her livelihood activity of dairy. Now she earns Rs 3000/- Pm from dairy.
She is working as CORD's Village Volunteer Resource Person for people with disabilities to raise their issues and concerns in panchayat. She helps people with disabilities to connect with CORD's programmes and helps them to access their entitlements. She celebrates world disability day in her panchayat, inspiring many others to hear the stories of other people with disabilities in her community. She is influencing other women to be independent and be an effective contributor in the society.
Asha Kumari is a very inspiring, content woman; she has a strong support system, and family. She has inspired and will continue to inspire many people in her panchayat.