Back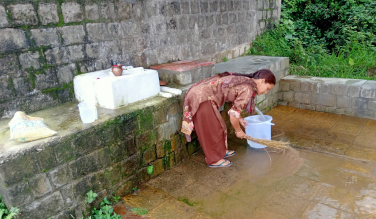 CORD Sidhbari, Himachal Pradesh CORD's community led springshed management interventions
Natural springs are the lifeline of rural communities in India. Besides being a sustainable source of water, people have diverse cultural and social beliefs about these springs. Unfortunately, springs in the Himalayan region are drying constantly due to unfair human interventions, a lack of ownership, and management initiatives. In order to initiate community-led spring rejuvenation initiatives, CORD joined hands with the government of Himachal Pradesh and other pioneer organizations, i.e., Wheel Global Foundation, People Science Institute (PSI) Dehradun, Indian Institute of Technology-Rurkee, and Advanced Center for Water Resources Development and Management (ACWADAM)-Pune, and implemented a pilot springshed management program in Narwana Khas, Tang, and Andrad panchayats in Dharamshala block of Kangra district.
CORD, as the program's implementing agency, invited government departments, i.e., Forest, Jal Shakti, and Rural Development, for focused interventions, i.e., plantations, toe tranches, household soakage pits, and other soil and water conservation measures. Besides it, the program's interventions focus on real-time data collection, training, and capacity building of water user groups, gram panchayat representatives, community institutions, and other stakeholders. CORD is an important partner of the high-altitude springshed management program in Tisssa block of Chamba district in Himachal Pradesh, along with the People Science Institute (PSI) in Dehradun and the International Centre for Integrated Mountain Development (ICIMOD). CORD interventions have increased community engagement in ownership and monitoring of these springs. Eighteen springs are being rejuvenated under springhed program interventions in the Kangra and Chamba districts of Himachal Pradesh. Seventeen water user groups have been constituted, trained, and nurtured so far.
Plantation activities have been completed on 12 hectares of springs' recharge area under convergence with the forest department. 560 toe-tranches and 100 staggered contour trenches were dug in the recharge area of selected springs. These interventions have helped increase the water discharge from the selected springs. Spring water discharge and quality data are consistently gathered by the CORD team as well as community paraprofessionals trained in each water user group. Besides that, water user groups have maintained protocols for cleanliness and effective management of springs. Each water user group conducts a meeting once a month to discuss the issues and activity plan in detail. Besides it, monthly spring worship by each water user group has increased belongingness to these water resources. Thus, content-sprinshed interventions benefited four hundred households directly and saved these springs from disappearing.