Back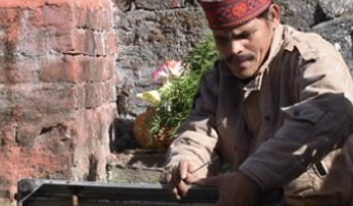 The Battle Beneath the snow
RURAL NORTH INDIA IS BATTLING A SUBSTANCE ABUSE EPIDEMIC
In December 2019, I was fortunate to be one of seven medical students from Monash University's Team MED India who traveled to Himachal Pradesh to deliver a school-based health promotion program in conjunction with a local non-government organization, The Chinmaya Organization for Rural Development (CORD). Our aim was to educate young adolescents about alcohol and drugs and equip them with skills and strategies they could employ when faced with common drivers of substance use, such as peer pressure and anxiety. We also traveled with the organization to different rural villages to gauge the extent of substance abuse by speaking to members of the community and, in doing so, identify those groups or individuals who may need further support from CORD. I met Mr. Saab during one of these community visits.
Abuse in rural India is extremely difficult to quantify, as individuals may be reluctant to disclose their usage in government-led surveys due to a fear of authority and the negative repercussions that may follow. Additionally, the significant culturally-rooted stigma associated with psychiatric illness, including substance abuse, also prevents many people in rural India from reporting the true extent of their use, as they may fear a loss of reputation within their small communities.
Science-based prevention strategies aimed at delaying the initiation of substance use and those that involve families, schools, and communities have consistently been identified as interventions by CORD.
In these small communities, the lack of any meaningful enforcement of alcohol legislation means that there are few barriers to the sale of alcohol, even to minors as young as five. Sadly, some of these children grow up witnessing and being subject to alcohol-fueled domestic violence. This in turn significantly detracts from their social wellbeing, affects their educational attainment, and subsequently facilitates their own entry into the vicious cycle of substance abuse. It takes immense willpower to navigate these unique challenges, and government high schools remain a crucial point of education for these taboo issues.
THE GOOD GUY
It is a sunny day in Tang, a rural village near Dharamshala, situated beneath the jewel of Kangra—the Dauladhar mountain range. Streaks of dark green and crimson-red uniforms scurry down the pathway as the clanging of the lunch bell fills our ears. We pass a group of laborers who begin stacking rows of terracotta bricks on their heads. Their bodies are lean from the heavy lifting, and their faces are awash with fatigue. It begs the question: how do these people carry this burden on their heads and continue to function effectively? I wonder if perhaps it is because their minds are occupied elsewhere.
By all measures, Mr. Saab is a man who leads a simple life. A delicately embroidered Himachali crown adorns his glistening forehead as he fiddles around in the sun with what appears to be an old, dismantled radio. "Aao Aao," he says, as his grease-covered hands welcome our army of 12 into his humble home. It is striking how welcoming members of these communities are, even to complete strangers. In true Indian spirit, Mr. Saab makes us feel as though God himself has stumbled upon his doorstep. Despite this warm welcome, it doesn't take long for us to realize that his kind eyes have seen many a struggle. Mr. Saab has lived in a community consumed by a pervasive substance abuse problem since he was a boy. He pensively describes gradually coming to the realization that his father was more frequently intoxicated than not, leaving a young Saab to witness firsthand the inescapable and destructive nature of alcohol. His eyes begin to well up with tears as he looks into the distance, poignantly recounting how his father would violently unleash his feelings of inadequacy on the very people he should nurture and care for. In bearing witness to this chaos, Mr. Saab quickly learned to distance himself from Sharab (alcohol) and the people who drank it, sometimes even fleeing the family home and the callous father it contained.
On those occasions where he could not physically escape, he began to find refuge in the vast ocean of Indian music. Entranced by the mellifluous tones, he quickly discovered that music left him far more intoxicated than any drug ever could. And so began his powerful journey of self-actualization. A self-taught flautist, singer, dancer, and actor, Mr. Saab taps into the age-old tradition of passing on important lessons through folk song, dance, and drama. He discovered the power of music to hold our every pain and joy and evoke emotion, even in those numbed by years of substance abuse. Armed with his angelic voice, he travels from village to village singing about drugs of abuse and the perils of intoxication, encouraging his fellow brothels and sisters to give up the habit, or better yet, never start.
From Mr. Saab, we learn the importance of keeping oneself occupied. Perhaps he was not tempted down the pathway of intoxication because he felt that he always had something better to do, whether it was preparing a new composition, becoming engrossed in a new art form, or tinkering with household items. Slowly but surely, he carved out a greater purpose for himself. He, just like the bricklayers, demonstrated that you are better equipped with strength to handle the challenges life throws at you if you keep your mind occupied. He blossomed from his adversity to become stronger, wiser, and kinder. In doing so, he embodies the very essence of rural India: resilient, insightful, and humble.
Mr. Saab is a good guy. From his lived experience, it becomes clear that perhaps the most important asset in a community riddled by alcohol and drugs is a few good people doing a few good things. In the end, it is a collection of small ripples that eventually culminate in a tide.
Kaarthikayinie is a 4th-year medical student at Monash University and aspires to a career with an emphasis on women's health. She is also passionate about global health equity and preventative medicine. She visited CORD as an intern from her university.