Back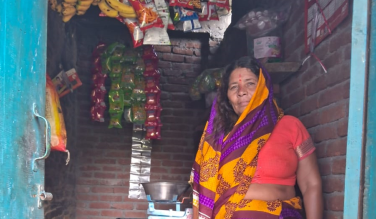 Devaki Devi
Smt. Devaki belongs to a poor family that consists of her husband and two sons, along with two daughters who are all married. Her daughters reside with their respective in-laws' families.
When CORD initiated its integrated rural development programs in this panchayat, CORD team members interacted with her. Under the guidance and facilitation of CORD team members, she joined Chinmaya Chinmay KafaliMahila Mandal in 2016 and later she joined Chinmaya ChimayShiv ShankarSelf Help Group (SHG). This forum provided her an opportunity to open up and boost up her socio-economic status. When she came to Mahila Mandal meetings, she spoke there about the difficulties that she was facing to sustain her family. CORD representatives suggested that she should try to work and earn by doing small backyard -farming activities like backyard poultry, backyard goat rearing,and backyard farming schemes.
Initially, she took a small amount of loan from her SHG and started backyard poultry, goat rearing and farming activities. CORD also provided some financial help in these activities. With these activities she had started to make a small income around 1500-2000 per month but was still keen to make more. With partially support from CORD, she expended her petty shop. Now with multi resilient livelihood activities, she is earning 3000 to 4000 rupees per month.
She has alsoelected as president of her Mahila Mandal and Self Helf Group.
Although she is only 5th pass, she is very happy to realize her potential and income from doing small odd jobs and that she has been able to contribute actively to her family and in society. She feels empowered and independent.
According to her, "with hard work,anyone can come out of their poverty and stand on their own feet". She now lives a dignified life with her family.
Devaki is just like any other woman but with integrated approach now she acquired a distinct image in her village and she is providinga positive energy to others.