Back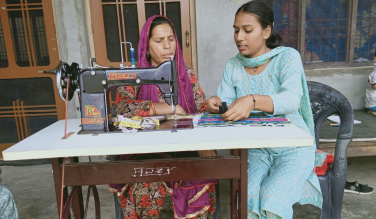 Rama Devi
Rama Devi, 39 years old, a widow, is a resident of the village Abdullapur Tehsil, Kangra District. Her husband had died of a snake bite a year ago. He has two children, a 6-year-old girl and a 3-year-old son. His family used to earn income by doing daily wages and cultivating vegetables. But after the death of her husband, this income also ended. Now all the responsibility of the house has come on Rama Devi. Rama Devi had a son who was handicapped. She was connected to Cord through her disabled son, who died in 2016. She had taken a loan of Rs 50,000 from an NRLM-aided SHG, which she invested in the construction of the house. But now after the death of her husband, she is not in a position to repay the loan. In 2018 Mahila Mandal of Rama Devi was enrolled under CORD which was earlier formed by Block. After the death of her husband, when the condition of Rama Devi had become pathetic, then her Mahila Mandal donated 10000 from the donation of their Mahila Mandal and apart from this, each member also donated personally to Rama Devi, due to which for 5-6 months, the basic needs of Rama Devi's house were being met.
Intervention and Results
Keeping in view the current status of Rama Devi and her sewing skills, under the program Rama Devi was provided with the latest sewing machine. She was also associated with the Gurudhara self-help group run by CORD, where she started getting orders for tailoring. Gurudhara is a group of enterprising women who run an outlet and provide facilities for marketing the products of rural women.
In the Mahila Mandal meeting of which Rama Devi is a member, it was decided that each member would get at least one suit stitched by Rama Devi so that Rama Devi could be helped financially. After this decision of Mahila Mandal, Rama Devi earned Rs 4000-5000 a month by stitching suits for 30 Mahila Mandal members. Rama Devi is now happy that she can take care of her young children at home and has also developed a source of income from the sewing machine she received under the programme. She believes that "I have a talent which she has never used but with the help of the program, I have been inspired to use my talent properly and fulfill my unfulfilled dreams".