Back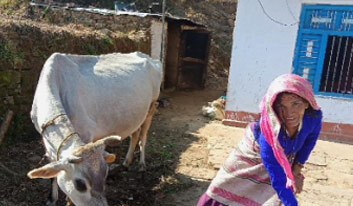 Empowering Lives through CORD's integrated Rural Development Programs Success Story of Satellite Sites Program
Saruli Devi, a 55-year-old illiterate woman and widow of Late Trilok Singh, hails from a poor family living in the remote Gram Panchayat Kafli, located in Block Dholadevi, District Almora, Uttrakhand. Despite the hardships life threw at her, she remained strong and determined to provide a better future for her family.
Saruli faced numerous challenges after the demise of her husband, as she lacked a reliable source of income in her village. Her two sons had moved to the city in search of private sector jobs, leaving her and her daughter-in-law responsible for the welfare of the family. The burden of sustaining the household fell on Saruli's shoulders, and she struggled to make ends meet.
Hope arrived in the form of CORD (Community Organization for Rural Development), a benevolent organization working towards integrated rural development in the region. The CORD team recognized the plight of Saruli and other families facing similar adversities, and they decided to extend a helping hand to uplift the community.
CORD initiated its integrated rural development programs in Kafli, and their team members reached out to Saruli. They encouraged her to join the 'Chinmaya Kafli Mahila Mandal,' an empowering platform that fostered social inclusion, community interactions, and collective efforts among women. Embracing this opportunity, Saruli realized her potential and began to contemplate solutions to improve her social and economic situation.
With CORD's support and guidance, Saruli became a member of the 'Chinmaya Sam Devta SHG' (Self Help Group) for economic empowerment. She embarked on a journey of understanding the significance of small savings and started managing her finances wisely. Utilizing her savings and loans acquired from her SHG, Saruli took a bold step and set up a backyard dairy with a single cow. This endeavour brought her a consistent income of Rs. 100 to 150 per day, helping her meet the daily expenses related to the cattle.
But Saruli's determination did not stop there. Empowered by CORD's training, she ventured into backyard goat rearing and adopted organic farming practices. To her delight, her efforts flourished, and she established a flourishing and nutritious kitchen garden right in front of her house. The once barren land now bore the fruits of her labor, providing fresh produce for her family while creating a potential source of additional income.
With newfound knowledge and experience, Saruli expanded her horizons and started growing cash crops, diversifying her income streams. This was a practice that had been unheard of in her village before, and she became a pioneer in the community.
Through unwavering perseverance and the support of CORD, Saruli managed to transform her life. Her monthly income now amounts to an impressive Rs. 4 to 5 thousand. This income, along with her sons' contributions from the city, has elevated the living standards of her family. Saruli's resilience and determination have not only empowered her but also inspired those around her to take charge of their lives.
Today, Saruli stands tall as a role model in her village. She has shown that with the right opportunities and guidance, even the most marginalized individuals can rise above their circumstances and create a better life for themselves and their families. Her success story serves as a beacon of hope for others, urging them to embrace change, work hard, and strive for a dignified life.