Back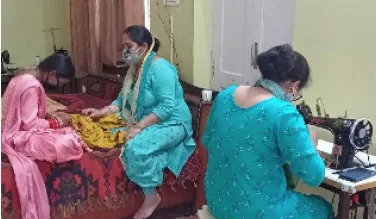 Nirmla Sohal
Smt. Nirmla Sohal is a 41-year-old widow who lives in Bhuner panchayat of Nagrota Bagwan block in Kangra district of Himachal Pradesh. She was married in 1999. Her husband, the late Shri Kuldeep Sohal, was president (Pradhan) of Gram Panchayat Bhuner. Smt. Nirmla Sohal joined CORD's Mahila Mandal and Self-Help Group after her marriage and took training in Tilla embroidery organized by CORD. Unfortunately, she lost her husband in 2008 due to a heart attack. Now, the responsibility of her 6-year-old son was on her shoulders. She did not have a sustainable source of income except for a small piece of paternal land. It was too difficult for Nirmla to fulfill her needs without any income source.
Chinmaya Balla Mahila Mandal, of which she was a member, motivated Nirmla for income-generation activities. She had received sewing training before marriage and wanted to start a tailoring shop. Smt. Nirmala shared her plan at the Mahila Mandal meeting. Mahila Mandal appreciated her proposal and helped her get a loan from Chinmaya Shiv Self Help Group (SHG), of which she was a member.
Smt. Nirmala took a Rs 50,000 loan from her SHG and started a small tailoring shop near her house. Now she was getting a small income for domestic needs. Smt. Nirmala wanted to provide a good education for her son. Hence, she paid her first loan successfully and took a second loan of Rs 40000 from SHG to start a boutique shop. Now she was getting additional income from the boutique shop and becoming self-reliant.
Her son is studying B.Tech. and running his ready-made garment shop as a part-time business. Smt. Nirmala had taken a Rs 25000 loan to invest in her son's shop. Smt. Nirmla receives a widow pension too. She has become a successful entrepreneur and encourages her fellow Mahila Mandal members to engage in livelihood interventions. She earns Rs 15000 to 18000 per month. She expresses gratitude to the CORD team's efforts in making her self-reliant.