Back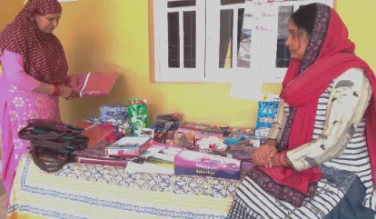 Success Story of Chinmaya Radha Self Help Group
Chinmaya Radha self-help group was formed by the CORD team in 2017 at Gram Panchayat Sarotri of Nagrota Bagwan block in Kangra district of Himachal Pradesh. The group has 10 members who come from weaker sections of the community. Each member of the group does regular saving per month and takes out loans for different financial needs. The group has been credit linked twice and taken a Rs 200000 loan. Selected members of the group have initiated successful livelihood activities.
During the COVID-19 situation, the families of three members' of the self-help group were facing financial crises. They were struggling with their financial needs. Meanwhile, they took a loan from a self-help group and started small income-generating activities at the household level. CORD team members motivated them to initiate their livelihood ventures and encouraged their family members to help them. Smt. Naresh Kumari and Smt. Praveen Kumari too took a Rs. 20000 loan each. They bought cows and started selling surplus milk in the village. They earn an average of Rs. 1800 per month. They are returning loans on time and helping their families fulfill their financial needs.
Smt. Sunaina Devi, another active member of the group, took a Rs. 40000 loan and started her own small shop of beauty products at home. She earns Rs 2500 from her small business. All these small livelihood initiatives have brought significant change to their lives. They want to scale their business activities in the future. They share their experience with their fellow members and encourage them to pursue their own livelihood options with the help of their self-help group, called the Mini Bank of the Women.