Back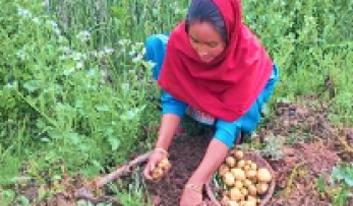 Radha Devi: Kitchen Garden Case Study
Radha Devi lives with a family of 4 people in Rajiana village of Kangra block of Kangra district in Himachal Pradesh. Her family mostly depends on agriculture for their diet and her husband works as a tractor driver earning Rs.6000 per month which is the only source of income for their family. She has two sons, the elder is pursuing graduation and the younger is studying in higher secondary. Her husband's earnings were falling short due to the rising cost of children's education, making it very difficult for her to meet the basic needs of the family, especially to diversify the family's food which was almost dependent on the market. She is a woman who is actively associated with CORD-Facilitated Mahila Mandal and Self-Help Group and is a housewife. The diet of Radha Devi's family lacked variety and consisted mostly of crops that they could grow on their farm or that they could buy from the market. Farming, mostly meaning grains or seasonal vegetables. According to Radha, it was becoming expensive to depend on the market for vegetables, due to which her family could not diversify their diet due to lack of money. She had a 1.5 kanal (576 m2) of land near her house, but it was difficult to grow vegetables on this land due to stray cattle. This land needed wire fencing but she could not invest on it as it was costly for her to get wire fencing done.
Intervention and Results
An important intervention through the program was the installation of wire fencing around the available land near her house. A water tank (plastic) was arranged for irrigation so that water could be available for irrigation. Seeds of different types of vegetables were distributed so that different types of vegetables can be grown. Taught the method of planting vegetables in the kitchen garden. Now this kitchen garden will help in increasing food diversity in the diet of Radha Devi's family and reduce dependence on the market for fruits and vegetables needed to be included in the diet.
According to Radha, the kitchen garden has had a great impact on her family. As seen in the picture above that initial batch of seeds has since grown into a beautiful, diverse, garden. This kitchen garden includes turmeric, garlic, onion, potato, papaya, green leafy vegetables and tomato. Radha Devi proudly claims that her home-grown cuisine uses garden-grown food ingredients. Further, she said that apart from meeting the family's food requirement, she would also earn from marketing the additional produce, which would not only reduce her dependence on the market but also increase the family's income by marketing the additional produce.
Kitchen garden for the Nutrition needs of family
The main objective behind promoting nutritious kitchen garden is to help rural households to get adequate nutrition every day and to create a means to increase their income. This will help the households to grow basic vegetables in their backyard which they can use in their daily diet. The nutritious kitchen gardens promoted by CORD are small scale (land is available near the household), but they are an important source of income for the rural community while meeting the household's level of food and nutritional security. Under the program technical assistance and inputs were provided to six selected poor households to establish and promote kitchen gardens for ensure the households level nutrition security. Households suffering from severe acute malnutrition and some of them suffering from tuberculosis were given priority and trained and supported to develop nutrition kitchen gardens in their backyards. Under the programme, wire fencing and seeds of various vegetables were made available to all the selected beneficiaries. In this way, after meeting the vegetable requirement of their household, these households will also increase their income by marketing the extra produce produced in their kitchen garden.