Back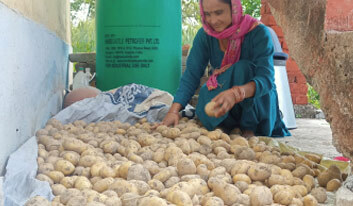 Savitri Devi
Smt Savitri Devi is a small farmer of Banu village in Rait block of Kangra district. She has less than half acres land in her native village. She started natural farming practices 2020 after practical training by CORD team member. She is member in Chinmaya Shiv Shakti Mahila Mandal-Banu and also member of Chinmaya Parvati Self Help Group.
Her entire land had no irrigation facility and wild animals were destroying crops due to lack of fencing. She was struggling to save her crops even after hard work. CORD team member facilitated her to get support for fencing and irrigation tank from agriculture department.
In year 2020 she adopted natural farming and started vegetable cultivation. Her husband helps to manage farm activities along with her son and daughter studying in 8th and 10th respectively. She does not use any chemical pesticides/insecticides in her crops after CORD training imparted in 2020. Now she manages a village Sansadhan Bhandar in Banu village establis hed under program and facilitates other fellow farmers to adopt natural farming practices. She is earning Rs. 4000-5000 per month from naturally grown vegetables and become inspiration to the other farmers.
Besides natural farming, she has a cow and a few poultry birds that provide additional income throughout the year. Smt Savitri Devi is facilitating around 37 farmers in her village and managing Sansadhan Bhandar along with her husband. She also had adopted millet cultivation in last kharif season and produced sufficient millet seed for farmers associated with her Sansadhan Bhandar.